John's Cars, Inc.
800 Jaguar Lane
Dallas, TX 75226
(214)426-4100
Fax: (214)426-3116

| | | |
| --- | --- | --- |
| | | |
| | | |
| | | |
You may purchase via PayPal. But you will get better customer service and sometimes lower prices by ordering via telephone at (214)426-4101.
The BIG STEP
Before laying out the big $$$ for anyone's conversion kit, buy the BIG STEP <www.brokenkitty.com/xj/xjv8.htm>, a complete guide to preparing for a V8 conversion for your Jaguar. It includes:
Buyer's check-out list if you are looking to buy a Jaguar
Advice and specs on different V8 drivelines
Illustrated, step-by-step instructions on removing your Jaguar driveline
Engine bay prep advice and more!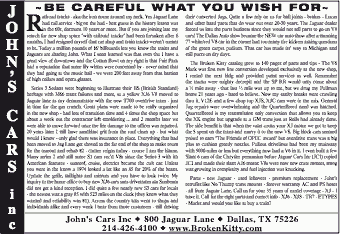 This will give you an idea of how complete and thorough my kit is and your entire project could be. It provides details on buying and assembling your Chevy driveline and removing the Jag motor. The BIG STEP is $20 (postpaid).
This purchase is credited to the purchase of your kit.












Quick Links
Contact John's Cars

Phone:
(214) 426-4100
Fax:
(214) 426-3116
Email:
Mailing
Address
800 Jaguar Lane
Dallas, TX 75226



© 2006 John's Cars, Inc. All Rights Reserved. Prices subject to change without notice.