John's Cars is the home of halfbreeds – those wonderfully English cars with American drivelines. While not everyone loves my V8 conversions, most loathe the Borg-Warner (BW) automatic transmission. Time for another John's Cars exclusive retrofit:
Jaguar
Body
+
Jaguar
V12 Motor
+
GM T700
Overdrive
+
Jaguar
Suspension
=
V12 QUARTERBREED (QB)

What is the V12 Quarterbreed?
The V12 Quarterbreed is a John's Cars kit that allows you to put a GM T700 overdrive transmission behind a Jaguar V12 engine. This kit is not compatible with the V12 XKE although it is under consideration.

Which Jaguars are Compatible?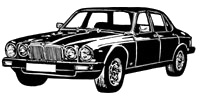 Classic XJ12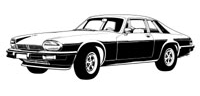 All XJS
This conversion is compatible with all Jaguars in the XJ series that have a V12 motor and GM T400 hydramatic. This includes all 1978 to 1996 XJS and XJS HE and all 1978 to 1992 XJ12 models (XJ12, XJ12L, XJ12C). This conversion is compatible with left-hand and right-hand drive cars.
This kit is not compatible with the V12 XKE although it is under consideration. Quarterbreed kits for Jag 6-cylinders (XJ6 Sedans, Mark I, II, IX or X models) are available – call for free info.

What are the benefits of the Quarterbreed?
SHOW ME, TELL ME
If you want to know more, an abbreviated version of the Quarterbreed installation instruction manual is available for $25.00 postpaid and I'll credit it to your kit purchase. Part Number V12QBTELLME.
The V12 has always been like a sailboat, cool underway but a tortoise off the line... until now! Leap into the 21st century with a John's Cars conversion using a GM 4-speed overdrive automatic. Prime benefits of the Quarterbreed conversion:
Better Acceleration: they have less mass, better gear ratios and stall speeds. They also have consistent upshift and downshift characteristics.
Longer Engine Life: lower RPM = less engine wear and tear, plus a quieter, calmer kitty. Older Jaguars with a 3.08, 3.31, or 3.54 rear axle ratio benefit even more from the 30% overdrive, relaxing a buzzy 3000 RPM cruising speed to a calming 2100.
Fuel economy: the savings will repay your investment.
Maintenance Costs and Convenience: if your V12-QB needs tranny service in Bass Lake, CA., you can have it repaired for a fraction of the price tag, not to mention the same day.
Upgrade Options: if the V12 expires next week you can make an intelligent and cost effective choice between upgrading to a Chevy V8 or rejuvenate the V12. Rebuilding the Jaguar 3-speed gearchanger instead of a Quarterbreed overdrive tightens the noose.
BONUS! When you convert to a V8 with a JCI kit, you can trade in the Quarterbreed leftovers for up to $200.00!
Still not a believer? Read a Customer Testimonial.

What's included in the kit and how much does it cost?
V12 QB Kit & Options
| | |
| --- | --- |
| V12 Quarterbreed Kit | |
| For V12 w/Borg Warner | $745.00 |
| For V12 w/T400 | $695.00 |
| Driveshafts ready to install | $165.00 |
Prices include ground freight. Hawaii freight add $35.00 for kits, $20.00 for driveshafts. Overnite freight in the 48 states add $40.00 for kits. Please call or e-mail for freight overseas.
Your V12 Quarterbreed kit features:
block to transmission adaptor
crankshaft/torque convertor adapters
transmission crossmember and mount
modified flywheel
throttle pressure hookup
shifter linkage
speedometer necessities
nuts, bolts, hardware
Lock-It™ for the torque convertor
100% bolt-in, of course
freight paid in the continental USA
my infamous instructions!

How To Order

Borg Warner
Pan Shape

T400 Pan
Shape
Please fill out the V12 Quarterbreed Conversion Kit Order Sheet completely, sign it, and return it with a money order or cashiers check in US dollars. The V12 Quarterbreed Conversion Kit Order Sheet is a JPEG image (about 185K) so it will take a minute or so to load. Print it out from a Laser, LED or ink-jet printer only – dot matrix printer will be useless. Make sure your print margins are set to .50 inches or it may not fit on a page.
We do not COD or accept credit cards on kits – plan ahead. Kits normally shipped the same day the order is received. Especially important is identifying your current trans type (see pictures). Prices subject to change without notice.
If you have any questions, please email them to qbv12@johnscars.com.

What else is required to do the QB Conversion?
Read on – another 30 minutes now will save you hours later! Start gathering what you need TODAY before the cat quits pulling. Preparation is the key to make things flow smoothly. Check 'em off. Note: John's Cars does not sell GM Transmissions, you can easily get one from a local rebuilder.
GM T700
Transmission:
The GM Turbo Hydra-matic transmission can be identified from others by its four bolt tailhousing (71÷4" long), detent cable and lack of modulator – a.k.a. T700R4, 4L60.

Remember you must use the T700 or else the shifter, mounts, speedo, etc. are not going to work properly. Transmissions manufactured from 1978 to 92 are best suited. The adaptor plate is for Chevrolet V8 transmission cases which measure 15.4" between the dowel pins. Inspect the GM bellhousing for cracks around bolt mounting holes and for damaged dowel pin holes. Inspect shift shaft where the shift lever attaches. Check the threads where the transmission mount bolts to the bottom of the case for damage. Make sure the transmission oil cooler fittings are in the GM case.

Note: The T700 Corvette trans does not have a transmission mount on the case – not suitable.

Lockup Transmission: All T700's have torque-convertor lockup and it must be hooked up to prevent damage to the transmission. Torque convertor locks up to provide the fuel economy only possible before with a manual transmission. GM used a computer to do it. We, of course, include the parts to do yours in 20-30 minutes! The trans will lock up in 4th gear only and it does so "automatically".

Tailhousing: Inspect your tailhousing for wear inside the speedo gear hole – it should be polished but it must not be grooved or the speedo gears will fail. You'll need the matching speedo sleeve retainer.

| | |
| --- | --- |
| | When you buy a rebuilt transmission, you'll get the case and guts only – cables, bolts, etc. will be up to you. I've listed most items here but I'm not there to know every detail. Most often they will give you things like the speedo clip #6261781 or Holddown Yoke #1254856, but you've got to ASK! |

Modified T400
Flywheel:
If you have a V12 with a T400, your flywheel must be modified. If you already have it all apart, send in your T400 flywheel with the kit order and I'll modify it. Otherwise, I will supply a modified used flywheel to get your project flying (a $200.00 core charge applies). The core charge is refunded when you return your T400 flywheel (provided your flywheel is not damaged or missing teeth – usually not a problem on V12 models). If you have an early V12 with a Borg Warner, do not send in your flywheel. Note: you can't send in a V12 Borg Warner flywheel to be modified if you have a T400.
Torque
Convertor:
The torque-convertor should be a balanced unit when you buy a rebuilt. Not all companies balance them. Be sure! Proper hardware to attach the convertor to flywheel is included, but be sure the 10MM threads are perfect in your convertor. We suggest an 1800 RPM high stall speed convertor common in Fuel Injection Camaros or Trans Ams.
Trans Filler
Tube & Stick:
You need a dipstick and matching tube. Universal tubes work in most applications. T700 use #T44494U.
Detent cable:
Use GM cable #25515598 with Seal #25518260. No universal cables please.
Modified
Driveshaft:
We have driveshafts ready to install or we'll provide you with the information and specs to modify your driveshaft.
Quick-Start Quarterbreed Hardware List
Item
Qty
T700
Torque Convertor Bolts
3
Metric #1261969.
Filler tube and stick
1
T44494U
Flywheel cover bolts
4
15650700
Detent Cable
1
25515598
Detent Cable Seal
1
25518260
Speedo Sleeve Retainer
1
1254856
Speedo gear clip
1
6261781
Detent/Speedo Cable Hardware
2
6mm 1.00 x 10mm

Do I have to modify my Jaguar to use the Quarterbreed?
Like other JCI kits this is 100% bolt-in. The original Jaguar transmission mount will not clear the overdrive T700 transmission case and must be removed. Later cars have bolt on tabs so you just unbolt them. Earlier cars have welded style tabs that will have to be cut off or hammered flat. Tabs can be put back by using the later model bolt-on tabs – if you want to put it back to antique.

| | |
| --- | --- |
| | Whether this is your first Jaguar project or you are a seasoned professional, I want to make sure you understand that you don't have to remove the motor to put a Quarterbreed in your V12 Sedan or XJS. Many manuals say that pulling the motor is the only way to change the transmission! It simply isn't true – you can install the Quarterbreed in 5 to 8 hours!!! |

Will any other transmission fit my V12?
No. The V12 was matched to a Borg Warner cast iron 3 speed in the EType. This Borg Warner was used in the XJ12L Sedan and XJS until 19771÷2 when Jaguar switched to a "Jaguar-only" T400 from GM. This Jaguar T400 will not interchange with early V12's equipped with a Borg Warner as Jaguar changed the block, flywheel and crank to use the T400 – but they also used a special "Jaguar-only" T400 case – go figure. In the V12's final years Jaguar hammered out the tunnel and fitted a 4 speed overdrive. The 88!97 XJ6 (XJ40) German ZF transmission will not bolt to a V12 Jaguar.

Other Gotcha's
Here are items you might find while doing the Quarterbreed Conversion... better to check them out now than have them "find" you later.
Shift Cable
Failure:
Series 3 and HE cars have a history of shift cable failure. The cable was downsized and will kink if forced. Parking against curb stops and on an incline are the usual cause of kinking when pulling the transmission out of park. Use the hand brake and don't force the shifter. The kink will occur inside the console at the shift lever.

Transmission Ratios
Gear
Jag Ratio
T700 Ratio
1st
2.48
3.06
2nd
1.48
1.62
Drive
1.00
1.00
Overdrive
Dreams
.70

Cruise Control
Operation:
On Series 3 models, take a drive (if the vehicle still drives) and test the cruise control before you start – about 50% of the units DO NOT work. Cruise only functions in the "D" position.
Shifter Position
on Overdrives:
Park, Reverse, and Neutral positions stay the same as before. Overdrive position of the T700 will be the "D" (drive) position on the shifter, direct drive is "2" (second) on the shifter, while second gear is 1 (first) on the shifter. The shifter does not go far enough to "hold" first gear. You can modify your shifter if this is a must for you, but I do not offer a modified shift mechanism nor a modified shift indicator plate.

Jaguar Parts and Spares
John's Cars is more than Jaguar conversions, we also stock a full line of Jaguar Parts and Spares (new, used, rebuilt and aftermarket) on our on-line catalog.

V12 Quarterbreed Testimonials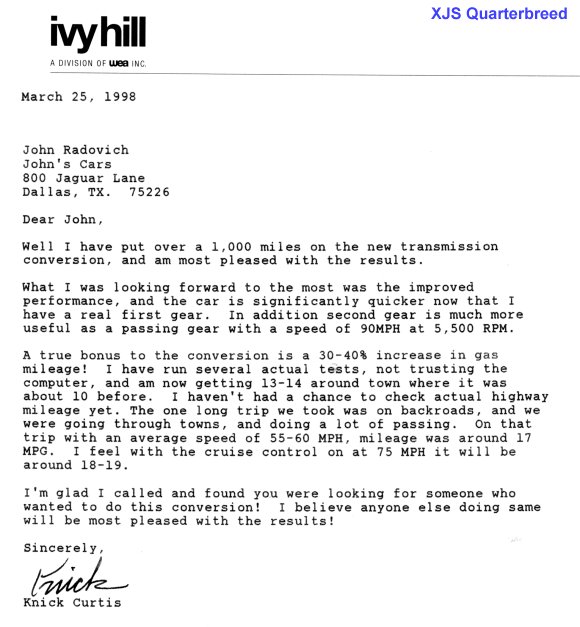 Still not a believer? Read more Customer Testimonials to hear what our customers think about us and our products.